Beginnings
In the spring of 2001, a group of funeral directors attending the annual Minnesota Funeral Directors Association (MFDA) conference discussed how they could continue to help their grieving families beyond the funeral service itself.  
Having witnessed the first steps of these families' grief journeys they wanted to help them further along their path of grief. Seeing the greatest need in the children of their families, the Minnesota Foundation for Children (MFC) was established to develop a program that could help grieving children.  
After extensive research, the MFC board joined Iowa's Amanda the Panda  program. In 2003 the first Camp Amanda-Minnesota began with an all-volunteer staff and nearly fifty children and teens attending.  The program was offered free of charge due to the support of funeral directors in the association and funeral service corporate supporters such as Funeral Directors' Life and Federated Insurance Company.
Under the direction of founding camp director Holly Guncheon, camps were held three times each year around the state.  In 2004 volunteers from other fields joined the funeral directors and added a day-long seminar for adult family members called "How to Raise a Grieving Child".  
In 2006, Doug Peterson became the camp director and MFC developed its first strategic plan. The plan included staying current with childhood grief research to ensure a quality program that met the mission of bringing hope and healing to Minnesota's grieving children.
In 2007 Coral Popowitz took the reins literally, as MFC's first large-scale fundraiser, Horseback for Hope was held. Two board member funeral directors rode across the state on horseback to bring awareness and donations outside the funeral association that spring.
In 2019, Coral retired as Executive Director, and in 2021 Jessica Moujouros transitioned from Program Director to Executive Director, as we became Healing Hearts Connection.
Changes
Staying true to its strategic plan and organizational value of keeping current with grief research, MFC parted with Amanda the Panda and became Children's Grief Connection (CGC), developing its own camp program called Hearts of Hope.
The Family Grief Connection program was developed and expanded further to meet the needs of the adult family members of campers and teens.  
Hearts of Hope Family Grief Camp began in 2013 after extensive planning and piloting. Hearts of Hope is a program that addresses the developmental lifespan of grieving families from birth through grandparenthood.  Each activity in the program is designed to meet the Tasks of Mourning at different developmental levels.
Moving Forward
In 2022, after 2 years of planning, Children's Grief Connection became Healing Hearts connection. The word 'children' in our old name is no longer fully representative of our services and future goals. As we have evolved and changed, we needed a name that was more inclusive of ALL those that we serve. We believe this new name better expresses all we currently offer, while allowing more room for growth as our organization continues to change and adapt to the needs of our grieving families.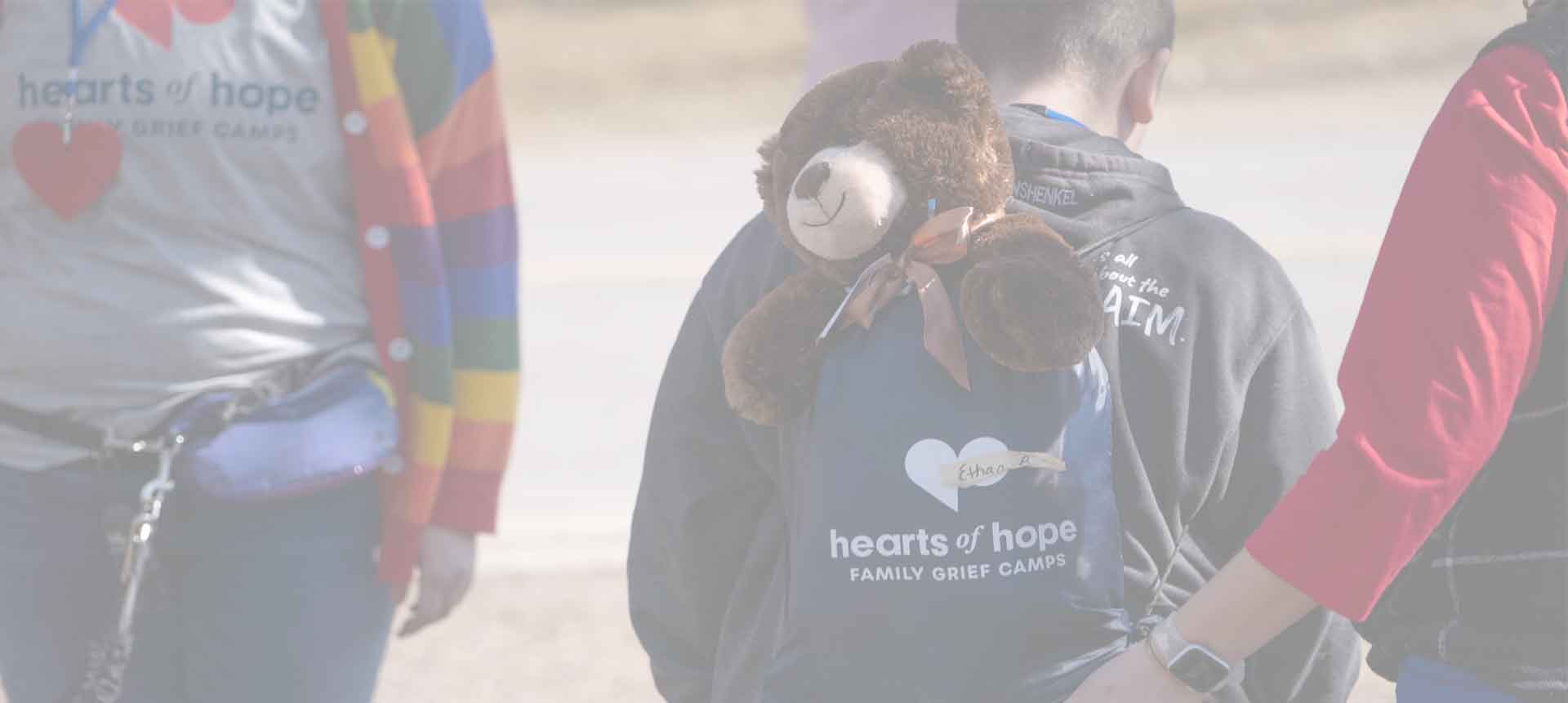 Since 2001, it has been our mission to provide hope and healing to families and individuals who have experienced the trauma of the death of a loved one.
Our approach is collaborative, dynamic, energetic, and relatable. Through engaging, innovative peer-based programming and community-building, we aim to help others manage the pain of loss while inspiring hope, joy, peace of mind, and a sense of belonging.
We're not a therapy replacement or all-in-one solution; our goal is to serve as an energizing stepping stone and guiding force for those on the bereavement journey and to support them along the way.
Healing Hearts Connection believes:
We know that grief relief is found in community and connection, Healing Hearts Connection is proud to be a member of the following organizations: