Families and Young Adults
November 4th-5th, 2023
Hudson, WI 
April 6-7th, 2024
Annandale, MN
When a loved one dies, the whole family is affected. Each family member grieves differently. The whole family needs help.
Hearts of Hope Family Grief Camps help families and individuals come together to heal. At this weekend-long camp, every member of the family has the opportunity to participate in integrated yet separate programs. Activities are mirrored in each program, providing shared experiences and a common language to use as they continue on their lifelong grief journey after our camp ends. Hearts of Hope Camp serves family members from pre-school through grandparenthood. On-site daycare for children 6 weeks to age three is provided. The camp staff is comprised of volunteers who have submitted multiple background checks.
Hearts of Hope Family Grief Camp is available at no cost thanks to the generosity of our supporters.  Space is limited, please do not wait to register.
Hearts of Hope Family Grief Camp also includes a program specific to the Emerging Adult population (18 to 24-year-olds). The EA program is designed to meet the developmental needs of this age group. Emerging adults can now attend our family grief camp in their own age-appropriate program with family members or attend as individuals. If attending with family members, they can be included in the family registration.
If you have any questions, please email Jessica at jessica@healingheartsconnection.com
Registration for Fall Camp will open Friday, September 15th at noon and remain open until Friday, October 27th, or capacity is reached. There will be a waitlist once capacity is reached.
"When death comes, despair is diminished by the strength and togetherness of Family. Death must not be met alone…From the shock and inner-paralysis of the death of one beloved, reality and resolve become the wellsprings of acceptance, healing, and hope…" - Jerry Brown
Since 2001, Healing Hearts Connection has served nearly four thousand grieving family members and tens of thousands of community members in Minnesota, Wisconsin, and throughout the United States.
As a companion to people in grief, you may be a funeral director, friend, neighbor, extended family member, teacher, school social worker, therapist, grief counselor, nurse, or religious leader. Our staff will provide resources and programs that will be helpful to the people you care for… we are just a phone call away.
As a volunteer, you can help people who are grieving by spreading awareness of Healing Hearts Connection's programs and services. We welcome volunteers for our weekend camps, or as participants in our annual fundraising events, including our largest event, The Frunge.
"I felt helpless until I found your program. My daughter and her family were so sad, and didn't know where to turn."
- Grieving Grandmother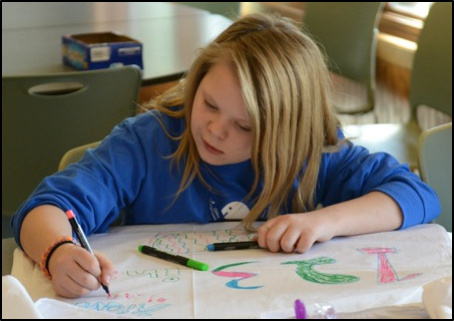 When grief touches a school community, Healing Hearts Connection can help.
Thanks to the generous donations of Sounds Of Summer Festival, and the Kenneth B. Peterson Memorials, we are pleased to offer a program designed for schools in times of crisis due to a death(s) in the community. This program is offered free of charge and can be implemented with little to no cost or prep time. For more information, please email Jessica@healingheartsconnection.com
Healing Hearts Connection's programs are offered free of charge to our participants.