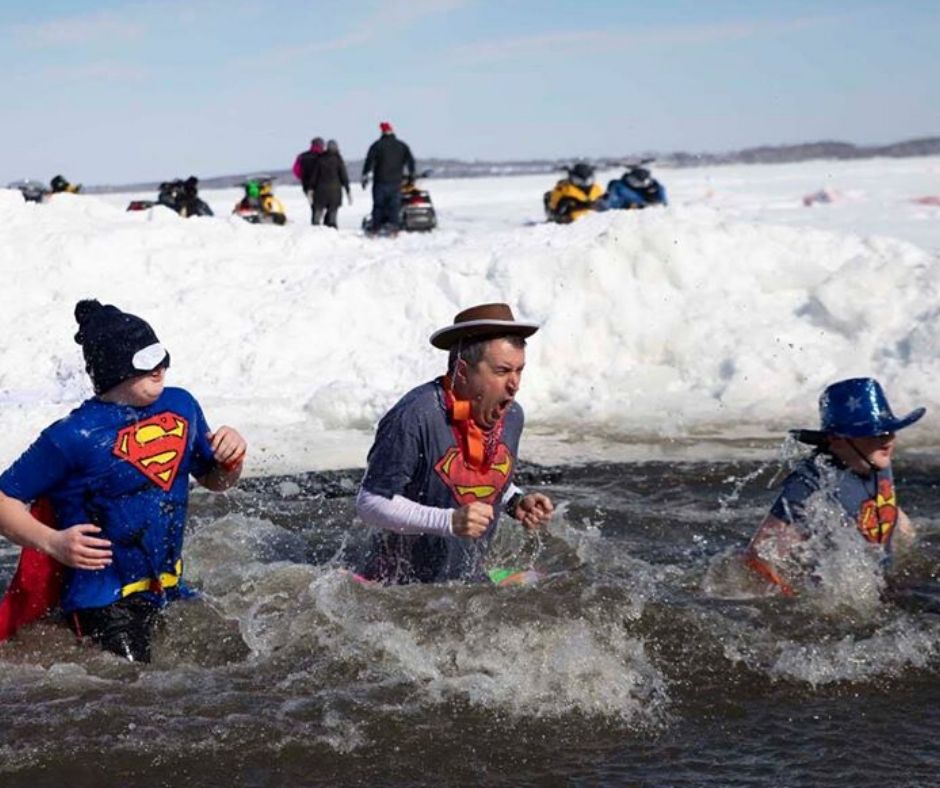 March 7th, 2020                          
Lola's Lakehouse                    Waconia, MN
                 Registration opens at 9:30 am
It's a bone chilling AND heart-warming celebration on Saturday, March 7th at the 11th annual Frunge benefitting Children's Grief Connection and Hearts of Hope Family Grief Camp.  Join our brave fundraisers we call Frungers, as they jump into the frozen waters of Lake Waconia to support grieving families.
We will be bringing back the popular Fuzzy Bear Frunge for our 12 years and under crew.
Our Friends of Frungers can raise money to NOT jump into the lake. If you aren't able to make it on Saturday, or your doctor won't let you Frunge, this is the option for you!
New this year: We have different registration prices for individual Frungers, Teams, & Families.
All ages are welcome to fundraise for the Frunge and participate at the Frunge event and here is how:
Age                What                                      Description
2- 7                Fuzzy Bear Frunge        Frungers slide into a pool of fuzzy bears
8 - 12             Choose                                 The Fuzzy Way OR  into the Lake (must jump into the Lake with guardian)
13+                Frunge into Lake             Frungers may jump alone or with friends
Any Age       Friends of Frungers      Raise money NOT to jump
Make a weekend of it!
Join other Frunge supporters at
Oak Ridge Conference Center
Luxuriate for one or two nights
Book your room early to have the
Frunge special rates applied
$95 + tax for a Standard Guest room
Phone 952-368-1492
and ask for the FRUNGE reservation room rate
Thank you to our Frunge Sponsors